Ambarish Gupta and about 170 of his teammates were about to log off for the day around 7.30 pm, last Tuesday, when an unexpected error occurred.
His Gurgaon-based company Knowlarity runs the backbone of call centers for many important hospitals, cab companies, restaurant chains, and online food ordering companies in India. Suddenly, it found about one-third of all the company's call center lines dead.
Everyone thought it to be a massive technical failure and informed the telecoms operator whom all those numbers belonged to. After an hour the operator got back saying it was the government of India which had ordered to shut the lines for the startup.
Meanwhile, customers panicked. Some of them were large hospitals – who run services such as instant SMSes and calls to doctors if a patient's condition becomes critical.
"We lost a bunch of businesses, because our patrons kept trying our hotline number and it did not connect," says Rushabh Vohra of Mr. Homecare, a cleaning service startup.
The 170 employees of Knowlarity decided to stay back all night in the office, struggling to reroute the lines to other operators. But the numbers given to the customers could not be changed instantly.
"We are facing one of our worst instances of outage. Even a five-minute outage would lead to massive business losses for our customers ," he adds. About 4,000 of the 12,000 odd customers of Knowlarity suffered an outage.
According to the government official Ambarish met, call-bridging is not covered in AudioTex. "But this is the basis of our product SuperReceptionist and solutions such as virtual numbers," wrote Gupta in this Medium blog.
SaveCloudTelephony campaign
The company has started Twitter and Facebook Campaigns to save cloud telephony even as it fights it in the Indian courts.
"If the government started having regulations on new technology like self-driving cars and robots even before it emerges, it can be catastrophic," he says.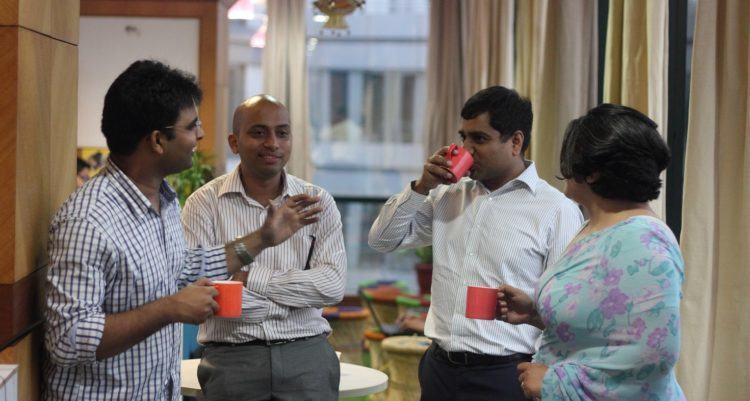 Knowlarity co-founder Ambarish Gupta – third from left in the startup's office. Photo credit: Knowlarity.
However, the company is seeing this phase as yet another lesson in the path to becoming stronger.
"When you sit at 2 at night trying to figure out a way to route a disconnected line so that your customer's toll-free number continues to function, you don't need another training in your life on team-work, customer empathy," he writes.
"Anything that does not kill you, makes you stronger. We are stronger," he notes.